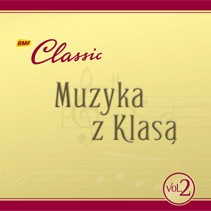 Dobrze dobrane nuty potrafią unieść scenę o kilka pięter. - Quentin Tarantino
Zanim powstało kino, działali mistrzowie tworzący muzykę, która przetrwała stulecia i wciąż porusza nas głębią, harmonią i kunsztem.
Dziś muzyka w filmie gra jedną z głównych ról, wydobywa esencję obrazu i często zapada w pamięć mocniej niż ekranowa intryga.
Połączenie dźwięku i obrazu to magia.
RMF Classic poleca swój drugi album z serii MUZYKA Z KLASĄ.
Posłuchajmy, jak brzmi dobre kino i co mówią do nas mistrzowie klasyki sprzed wieków.
Posłuchaj fragmentów utworów z płyt:
Płyta 1.:
1.
Intermezzo from Cavalleria Rusticana PIETRO MASCAGNI
2.
Sabre Dance from Gayaneh Ballet, Act IV ARAM KHACHATURIAN
3.
Scheherazade Op. 35 III. The Young Prince and the Young Princess NIKOLAI RIMSKI-KORSAKOV
4.
Polovtsian Dances from Prince Igor, Act II (orch. Rimski-Korsakov & Glazunov) - Introduction: Andantino ALEXANDER BORODIN
5.
Minuet from String Quintet in E major Op. 13 No. 5 LUIGI BOCCHERINI
6.
Polonaise in A flat major Op. 53, 'Heroic' FRYDERYK CHOPIN
7.
Va pensiero (Chorus of the Hebrew Slaves) from Nabucco, Act III GIUSEPPE VERDI
8.
Keyboard Concerto in F minor BWV1056 - II. Largo JOHANN SEBASTIAN BACH
9.
Mandolin Concerto in C major RV425 – I. Allego ANTONIO VIVALDI
10.
Overture from The Barber of Seville GIOACCHINO ROSSINI
11.
Te Deum H.146: Marche de timbales and Prélude MARC-ANTOINE CHARPENTIER
12.
Divertimento No. 1 in D K136 – I. Allegro WOLFGANG AMADEUS MOZART
13.
Waltz Of The Flowers from Nutcracker Ballet Op. 71, Act II Scene 2 No. 13 PETER TCHAIKOVSKY
14.
Peer Gynt - Suite No. 1 Op. 46 - III. Anitra's Dance EDVARD GRIEG
15.
Waltz in C sharp minor Op. 64 No. 2 FRYDERYK CHOPIN
16.
Chanson de Toréador from Carmen, Act II GEORGES BIZET
17.
Overture from Le Nozze di Figaro K492 WOLFGANG AMADEUS MOZART
18.
Adagio for Strings Op. 11 SAMUEL BARBER
Płyta 2.:
1.
THE WIZARD OF OZ Over The Rainbow Harold Arlen / E. Y. Harburg
2.
2001: A SPACE ODYSSEY Also sprach Zarathustra Op. 30 (Opening) Richard Strauss
3.
THE PASSION OF THE CHRIST Resurrection John Debney
4.
APOCALYPSE NOW The Ride of the Valkyries Richard Wagner
5.
YOU ONLY LIVE TWICE Main Theme John Barry
6.
THE MISSION Gabriel's Oboe Ennio Morricone
7.
THE DEER HUNTER Cavatina Stanley Myers
8.
AMARCORD Amarcord Suite Nino Rota
9.
HARRY POTTER AND THE CHAMBER OF SECRETS The Chamber of Secrets Main Theme John Williams
10.
VOLVER Volver Alfredo Le Pera / Carlos Gardel
11.
SAVING PRIVATE RYAN Hymn to the Fallen John Williams
12.
DR. NO The James Bond Theme Monty Norman
13.
PAN TADEUSZ Soplicowo Grzegorz Turnau / Aleksander Leszek Moczulski
14.
CINEMA PARADISO Love Theme Ennio Morricone
15.
UNFORGIVEN Claudia's Theme Clint Eastwood
16.
AROUND THE WORLD IN 80 DAYS Around The World In 80 Days Victor Young
17.
BASIC INSTINCT Main Title Jerry Goldsmith
18.
PIRATES OF THE CARIBBEAN: DEAD MAN'S CHEST The Kraken Hans Zimmer